Production lines of polyurethane composite board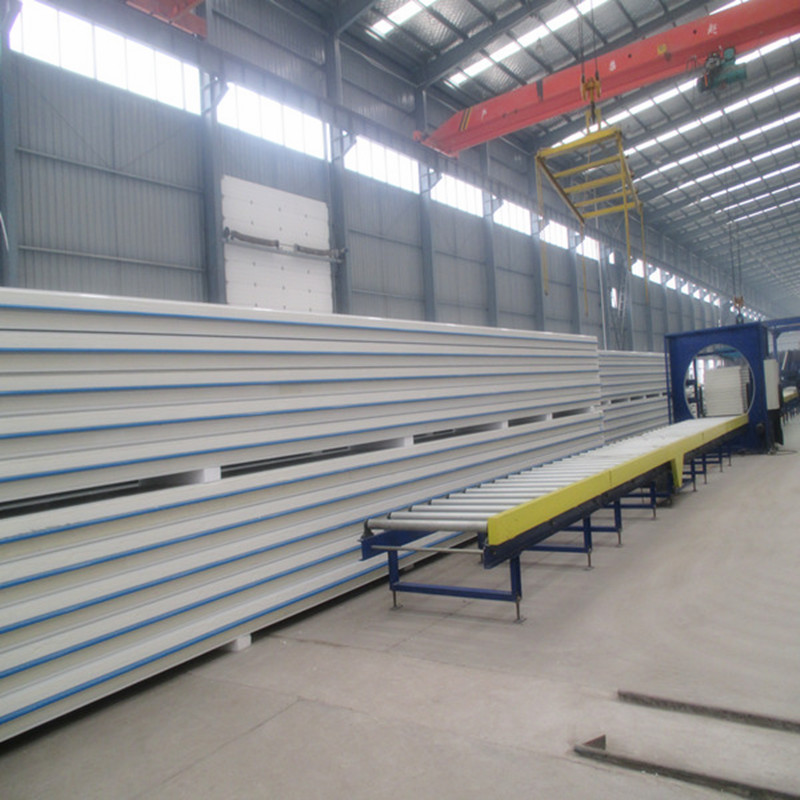 1)It ensure that 100% imported raw materials which come from US huntsman what is first in global ranking, foaming rate was 98%, 130% higher than the same industry in air tightness.
2)Check each, 100% detection in domestic authority, PIR oxygen index up to 30, fire prevention level is B1.
3) Eight Version of the type of patent, more beautiful, more applicable. there are seven company choose BRD in industry top 10.
4)Broken Hill Proprietary, Shanghai Baosteel, Taiwan Yehui, it is well-known color coating brand core partners in domestic, 100 g - 180 - g galvanized substrate, 100% guarantee the service life of 30 years.
5)There are 20 kinds of regular painted color, 1700 tons of annual inventory, 100 meters of minimum quantity, production for 24 hours, 100% guarantee of work period.
6)5.0 cm plate transverse reinforcement patent, plate strength is increased 170%.
Polyurethane wall panel:

1)It use of 47 ripples, increase 200% intensity in board face.
2)2 cm wave distance, Germany streamline design, wind load increased 100%, prevent dust fall to the surface.
3)5.0 cm wide reinforcement, increase 200% the strength.
Polyurethane roof panel:

1)China's first original 4 peaks of roof panel, the snow load is more higher.
2)Adopt the 3 wave peaks of roof panel, embedded installation, dark nail waterproof technology, easy installation, guarantee 100% hold water.
3)Adopt the 40 cm peaks, increase the surface strength, easy drainage, reduce 170% snow load and 170% wind load.
Polyurethane cold storage board:

1)Six kinds of national patents about in-fixing pattern. The cold storage board prevent cold bridge, about 45 times more heat preservation.
2)3 bent 2 Bulge connection patent technology, 100% guarantee air tightness.
3)Adopt the 4.5 cm interface, connect more closely.
Polyurethane sealing side rock wool composite panels:

1)The density is 120 kg/m3 of rock wool, high strength, a fire prevention, waterproof.
2)100% basalt raw material , dolomite, etc., can you light the stone?
3)5 cm polyurethane double side letters patent, super waterproof, the panel life can be up to 30 years.